Almost every website we go to requires registration. While it is important to give your correct email address at important sites, you may not want to give it out to sites that could spam your email.
BugMeNot is a website that allows you to access and share logins for websites that require you to register in order to view content. You may also search for existing login ID's for websites if they are shared by other users. This useful service has a big database full of free password where a site or a forum needs registration.
Disposable email ID's
Verification links force you to provide the site with a valid email address. With BugMeNot, you just enter [email protected] and use their service to activate the verification link.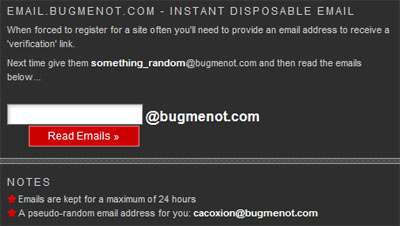 Please note that you will be unable to change passwords if you loose them as you will be providing an invalid email ID.