Most email service providers like Gmail, Hotmail and Yahoo allow a maximum file attachment size of 20 MB. It can be quite troublesome when you need to share high resolution pictures, presentations, drawings, etc with your friends or clients.
Most of us who need to do this use Rapidshare or other file sharing services and then send a link to the file.

MailBigFile.com is a service that allows you to do this with a few simple clicks. Just enter the Recipient's e-mail address, attach the file, enter your email address and click send !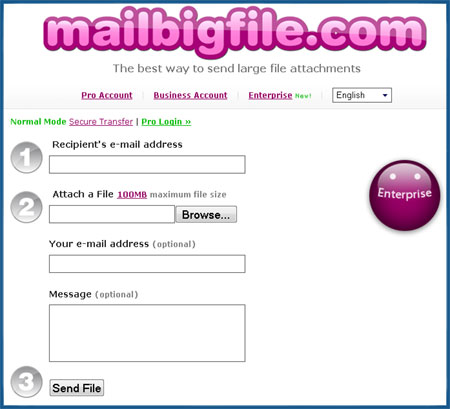 You can also use Lycos Mail which allows unlimited file attachment size.
If you need to have a permanent link to the file you can use free hosting services like SkyDrive from Microsoft which give you a 1GB free online storage space. Read more about SkyDrive here.