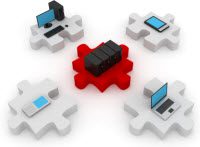 We all know the trauma of having a hard drive crash on us and losing all our data. It is not a pleasant experience having to find all those files again and download all those updates. Online file sharing is quick, simple and reasonably cheap. The advantages of having an online sharing system is that you can store your own data and share the link with your friends and family straight from your arm chair.
File Sharing Sites
Those familiar with Rapidshare might also have heard of File Sonic, Fileserve, Wupload and Megaupload. All these sites have download options but they lack one major facility: A search facility. Users can't search the particular sites for specific files. Unless you are actually sent the link by someone you know you cannot locate or download a file. It is possible to try a general search engine like Bing or Google, but again, you need to know what you are looking for. Filetram is a file search engine but it doesn't always have every file available.
Free Accounts
Free accounts have limited use, only one upload or download at any time and limited file size upload and download. There is also a waiting period before you can start a download. This usually ranges from 20 seconds up to 20 minutes, depending on the site. The file size upload limited is between 100 and 400 megabytes, but some sites allow unlimited size, regardless of the type of account. Users who wish to download from free accounts will have to wait for the CAPTCHA to show up, fill it in and then press the 'Start Download" or 'Download Now" button.
Premium Accounts
Paying a little extra for a premium account with an online sharing website will get you unlimited downloads and uploads, unlimited storage, unlimited file size download, up to 10GB upload file size, pause and resume downloads and multiple parallel downloads. There is no waiting period for starting a download, either. Prices vary according to the site and for how long you choose for your membership.
Online Storage
Sites like SugarSync, OpenDrive, MyPC Backup and ElephantDrive and Storegate all have file storage options. Monthly fee prices range from $4.99 to $7.99 for up to 5GB storage. Options for free accounts are offered by most of them, as well as scheduled back-ups and remote access. Security is tight with SSL encryption, password protection and multi-level security for the best protection. Telephone and email support is available from all the sites. There are also FAQ's, tutorials and user manuals to help you and guide you through the site to get the best benefits from it.
System Back-Up
It always pays to back up your data and protect it. Mishaps can happen at the least expected moment and without any secure online protection you can end up losing everything you worked so hard to collect. Some sites let you sync your account to your computer so you can conduct a file transfer and sync any time you like. See our posts tagged file storage for reviews of sites.
Online Hosting
Mediafire, Yourfilelink and freewebspace all offer online hosting for those important files. They have dedicated servers, multiple root folder support, defined user group options, remote access and IP blocking, as well as many other features. Most sites are also covered by data protection laws which disallows any copying of your data. SSL encryptions and passwords protect your data from external hacking, but there is always a danger that files can be stolen, so always take maximum precautions.
Free and Premium Accounts –Advantages and Disadvantages
Advantages of the free account is that you can access files that your family, friends or colleagues have sent you a link to, without having to pay. You can also store files but only up to 30 days. This is useful if you just wish to use temporary storage but for long term storage a premium account is far superior. Free accounts also restrict the ability to pause and resume downloads. If 750GB is enough storage for you, a free account would be better, but if you need more, a premium account will serve you more diligently, with unlimited space. For a mere $55 a year, it is worth the money to upgrade to a premium account. You also have the advantage of paying with PayPal.