Identity theft is quite common in todays world with accounts and credit card being stolen easily. Once you provide an untrusted website with your credit card information they can reuse that information for their personal use.
Innovative Card Technologies and eMue Technologies have created jointly created the Credit Card Embedded Authentication Device. It is a next-generation credit card that incorporates a 12-button keyboard, a microprocessor and an embedded alphanumeric display promises to provide unprecedented security in phone and online banking transactions.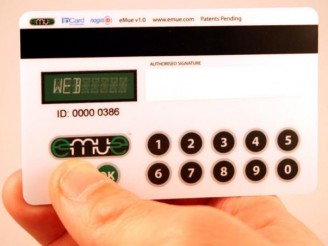 A user can enter his or her secret PIN into the card's keypad to receive a numeric passcode for one-time use. To authorize a banking transaction, the passcode is entered into an interface and instantly validated by an authentication server.