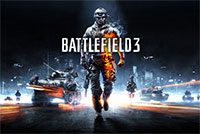 Battlefield 3 the popular multiplayer game from DICE is one of the best selling games of the year. The Frostbite engine developed by DICE features some breathtaking graphics.
Recently while installing the game on a friends machine we had a problem. The installation went fine but once he started campaign there was no menu to start the game. Just the background picture of the soldier and tanks. When joining multiplayer games, he could not see the HUD. The compass and ammo information was not there at all. After spending some time we finally figured out that the fix for this issue was something that seemed completely unrelated to the problem.
How to fix Battlefield 3 cant see HUD or menu
This issue is caused when the language settings of the game has some issue with the settings of the language on your Operating system. There is a method to check the registry to see if it is correct but there is a much more easier way to fix this. Download 2MB patch and unzip it to your Battlefield 3 folder. This will automatically fix this issue. The update folder contains the information needed by battlefield to correct the language issue.
Thats it try logging into the game and it should be fixed.
Note :- If you are using another language like Russian or German, please check the guide to change the registry values to english.
Alternative method
You can delete the registry keys found at [HKEY_LOCAL_MACHINE\SOFTWARE\EA Games\Battlefield 3] on 32 bit OS and [HKEY_LOCAL_MACHINE\SOFTWARE\Wow6432Node\EA Games\Battlefield 3] 64bit. When you try to start the game again, Origion should automatically fix the registry. You can also perform a repair installation by right clicking game in Origion and selecting the option.
If you have multiple monitors connected then its an issue with eyefinity, this will not solve that issue.
Do check out our useful posts about Battlefield 3 Fix. You might be interested to know how to fix Battlelog cant see ping response in Battlefield 3.