Planetbase is a new strategy base building game that became an overnight hit on Steam. The game looks great with detailed buildings &environments. The gameplay is quite compelling. Resource management is the most important part of the game.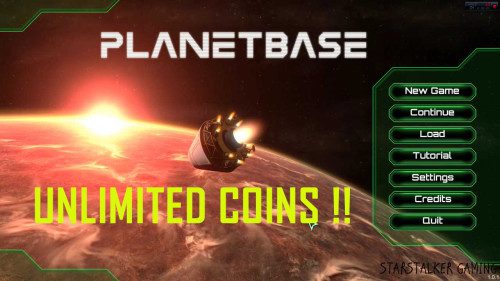 We found a way to get unlimited coins in the game. Other resources need to be traded for at the landing pad. This is because the other resources are shown as items in the storage bays and adding more causes the game to crash. So, get unlimited coins and then trade them for the resources you need.
First you need the very popular CheatEngine which is a memory scanner / editor. If you dont have it, I highly recommend you download the non automated installer version from their site. The automated installer also installs spam through OpenCandy. Download CheatEngine portable version from their site ( http://www.cheatengine.org/download/cheatengine64_NoSetup.rar ).
How to get unlimited resources in Planetbase Guide
The video should have explained the rest for you. If it helped you please like the video. I must say this game is very addictive but be prepared for all your people to die due to a random disaster you didn't see coming. Have fun in Planetbase !