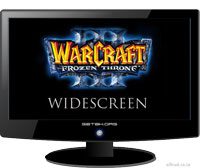 Warcraft 3 is a very popular RTS game made by Blizzard Entertainment who also own games like World of Warcraft and Starcraft. Dota a custom map for Warcraft 3 has become one of the most popular games all over the world.
Since the game was made way back in 2002 it does not support widescreen monitors which are common with todays gamers.
We found a way to force Warcraft to work in widescreen by changing a few values in the registry.
How to enable Warcraft 3 Widescreen mode
We will have to use a small Registry Edit to enable the widescreen mode. As always its recommended to backup your registry if you accidentally modify values not related to Warcraft. Just follow the guide and you should be fine.
Press Start and type regedit and press enter. (XP users need to go to Start > Run > type regedit)
You should see the Registry Editor opened. Now navigate to the values shown below
HKEY_CURRENT_USER > Software > Blizzard Entertainment >Warcraft III >Video
You should see the following screen.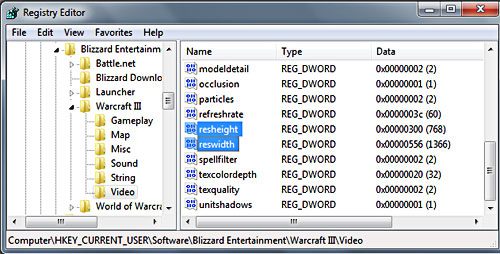 Now before you make any changes, you need to know the screen resolution your computer is running at. Right click on your desktop and choose "Screen Resolution". (Vista and XP users will find the same in "Display Properties") Note down these values.
Change reswidth and resheight to the values that you noted down earlier.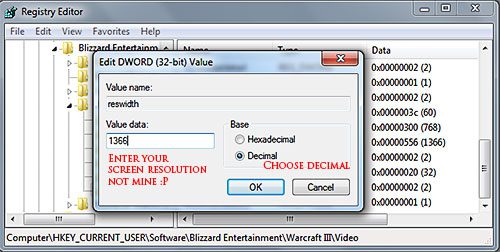 Make sure you choose the DECIMAL option while changing the values.
Close Registry Editor and enjoy Warcraft 3 in widescreen.
How to Increase Warcraft 3 FPS
Do the same steps as above but change the value of lockfb to 0 (zero)
The maximum FPS that warcraft 3 gives no matter your computers hardware is 64 frames per second. If you feel the mouse is slower disable Vsync from your graphic cards control panel. Also note that if you check the video options in the game it will not show you the new values since the options doesnt exists. I recommend you dont check the video settings in game, if you do just cancel it.
On another note Vista users who need an HP viewing program for Dota, see our Dota HP Viewer.
If you know any other tweaks you would like to share with us, leave a comment below.