Phones have become the center of our lives, our friends & business contact numbers are needed when we least expect it. The hardest part is shifting from one phone to another. Incase you want to shift from Sony Ericsson phones to Windows Mobile or have a copy of your contact on your computer its a good idea to have them synced.
How to Sync Sony Ericsson Phone Contacts with Windows Contacts
First of all we will need the Sony Ericsson PC Suite in order to sync your phone with the computer. Get the PC Suite (Sony is using a new software called PC companion now, so download it from softpedia).
Now start the PC suite application and click on Contacts from the right menu. This will sync the contacts from your phone to the PC suite.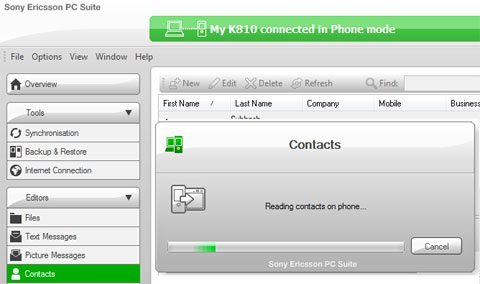 Now that the PC suite has been synced we can work out a way to sync it with Windows Contacts
Copy and paste the following in the Run box in Start menu, while replacing the username with your Windows login account name.
C:\Users\USERNAME-REPLACE\AppData\Local\Sony Ericsson\Sony Ericsson PC Suite\Sync\SyncML

You should see the files shown above. Copy the contacts.txt file to your desktop or another location.
Rename the file to Contacts.vcf (you will see the icon change). Incase you can't rename the extension, do it through the CMD prompt as shown.

Open Windows Contacts and click on the Import Button. Choose VCard format and open the file you saved. You Windows Contacts should now be updated with the phone contacts. You might have to click the OK button multiple times to import each contact.
You can also sync these contacts with your iPOD using iTunes.
Alternate Method to export contacts as a VCF file ( Thanks to Blaise Kal for the tip)
1. Open Sony Ericsson PC Suite
2. Make a backup of your phone which includes your contacts (this creates a .dbk file)
3. Change the extension from .dbk to .zip
4. In the zip file, there's a file called contacts.vcf