External Hard Drives are very popular to store data or transfer data between multiple computers. There is a simple tip that can be used to increase the performance of external hard disks easily.
In windows XP, write caching was enabled which meant better performance but if the hard drive was disconnected without ejecting the device it could loose data. Windows Vista and Win 7 disable write caching by default so that even if you remove the device without "safely remove hardware" option, data will not be lost.
We can use the write caching feature to improve the performance of the external hard disk but you need to make sure you disconnect the device in the proper way. Also if you face power outages without backup power this option is not recommended.
How to Increase External Hard Disk Performance
Click Start, right click on My computer and select Manage (if you see a UAC prompt allow it)
Click on Device Manager in the right pane
Expand the Disk Drive section
Find the external Hard Disk whose performance you wish to increase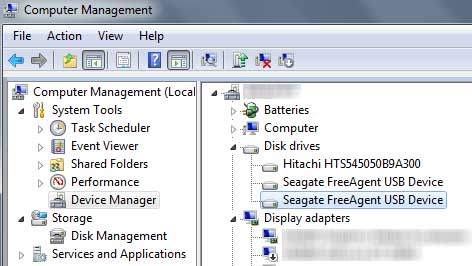 Right click on the hard drive and click properties
Click on the Policies tab
Choose the "Better Performance" option and click OK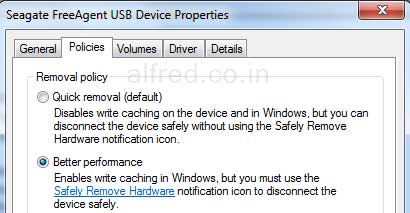 Note Windows Vista Users will see 2 additional check boxes, check both of them
Write caching should be enabled and you should be a performance increase from your external hard drive. Remember to make sure you "safely disconnect" your device before disconnecting it.
To increase the data transfer rate while copying files, I would suggest you take a look at Tools to Copy or Move files faster in Windows.