If you purchased a Samsung Galaxy Tab recently, you might be surprised that it does not run some apps in full screen mode. This is especially noticeable when playing games. The Galaxy Tab features a 1024 X 600 screen resolution which is not supported by many applications. No need to worry there is a work around that can help you.
How to run the Samsung Galaxy Tab android apps in full screen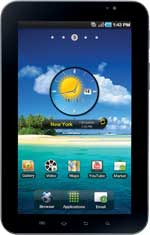 First logon to the Android Marketplace
Search for an app called Spare Parts
Download and install it
Open Spare Parts and scroll down
Look for an option called Compatibility mode
Uncheck it and then check it again
Restart your Samsung Galaxy Tab
Now again start Spare Parts, uncheck compatibility mode
Restart the device
Done, all you apps will now work in full screen. You may notice a little pixelation on some apps due to the expanded view if the app was made for a very low resolution phone.
If you want a video tutorial, watch the guy who found this trick !
If you don't want to do activate this trick, there are a few games from Gameloft that supports the Samsung Galaxy Tab like Nova 3D, ExZues, Lets Golf 2 etc. Also have a look at our HTC apps post if you have a windows mobile device. Have any more good tips for us ? Leave a comment and share your thoughts.