I was quite surprised to find that there are SMS based location services available in Bangalore. It might be common in other countries but it seems Bangalore is catching up fast ! Earlier location based services were available only for those using phones with inbuilt GPS receivers but that has changed with these two location services we have listed in this post.
I would also be writing about the RTO's SMS info service which allows you to get details about a vehicle's owner and other details via SMS. Be sure to read the whole post of skip through all sections.
The 9008890088 location service in Bangalore
This service works like a GPS system except that you just need to tell them where you want to go along with your current location. It then finds the route and sends you an SMS with the information. You can also find directions to coffee shops, ATM, etc in a given location. Whats more, it also shows you the estimated Auto fare along with the distance.
How to use this service. Send the messages as show in the examples below to 900889008.
FROM MG ROAD TO KORAMANGALA (the picture on right shows the reply we got, full message not shown)
COFFEE DAY INDRANAGAR
You will only be charged the standard SMS charges as applicable by your service provider.
BTIS Bangalore Traffic and Directions
The unique thing about this service is that it can tell you the traffic conditions in a given part of the city. It can also show you the route to a location. Be sure to check out the main BTIS website as well as the Mobile subsite for more information.
How to use BTIS. Send the SMS to 52225 (airtel) others should send it to 96639 52225.
To see traffic in an area > BTIS KORA
To get route directions > BTIS ROUTE MGRD KORA (MG Road to Koramangala)
The bad part about this service is that you need to know the location codes. A list of the location codes are available at BTIS. The BTIS website can also show you a map with the traffic and live views of different intersections in the city.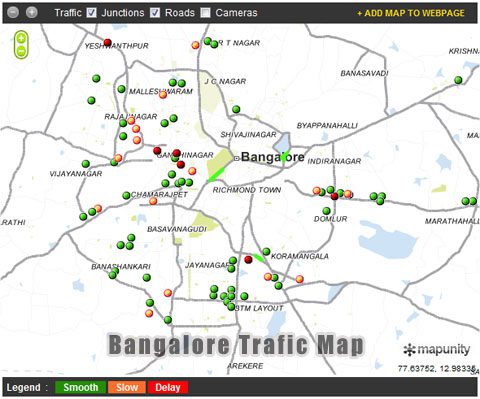 Find Info about a vehicle's owner using RTO's SMS service
With Bangalore's RTO going along with the e-governance, they released the SMS service to help with hit and run cases. Initiall it used to give the vehicle owner's address but that was stopped after misuse.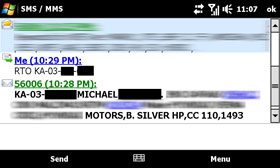 Currently you can get the owners name with the vehicle's make, model, engine & chasis number and color.
Know any other cool services that are available for Bangalore, do let us know, leave a comment below.