When you need to share files over the internet to someone you know, you might think about a file sharing service like hotfile, rapidshare, etc. This is not safe since these files can get indexed and downloaded by people you do not know. If privacy of the shared content is important , it is preferred that the file is transferred directly with the person you want to share it with.
Most of us know about bittorrents, which use Peer-To-Peer (P2P) networks. While this protocol is generally used to share large files on the internet, it has hardly been used to share files between two people.
How to transfer large files directly between two computers
iSendr is a direct file transfer system that makes it very easy to share large files with another person. It is very simple to use, the other person just has to click a link and can start downloading the file. iSendr helps you to setup the direct connection between the two computers but the actual file transfer happens directly between your computer and the person you share the file with.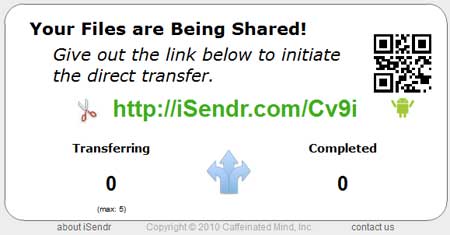 iSendr has very good security thanks to its 128 bit AES encryption and a password that can be set by the user. Upto five people can simultaneously download the file you are sharing. Just select the files to transfer and give the other person the link that is shown on the screen. Its that simple !
Try iSendr