Dropbox is widely used to store and share files online. The 2GB space offered for free by Dropbox has found a huge number of uses with different applications interacting with it.
Imagine you find an amazing torrent that you want to download and you are at work. You could use the uTorrents WebUI to control torrents running on your home computers uTorrent but how do you add new ones ? Now you can add torrents that  you found at work using DropBox. Follow the guide and learn how to add torrents remotely to utorrent from work.
Add Torrents to uTorrent using DropBox from work
First we need a DropBox account. Go ahead and create an account if you don't have one already.
Installing and setting up Dropbox is beyond the scope of this guide but you can use DropBox Help.
Open uTorrent and go to preferences menu.
Head over to the Directories menu on the left in uTorrent preferences window.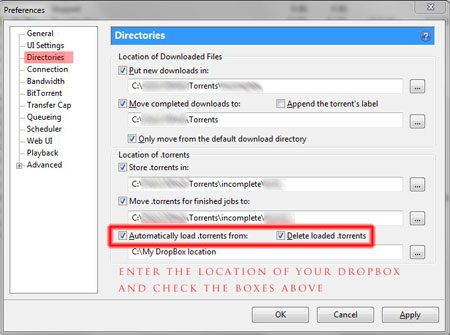 Check the boxes "Automatically load .torrents  from" and optionally "Delete loaded .torrents".
Click Apply and Ok to save the settings. Thats it you are all set.
How does adding torrents to uTorrent from Dropbox work
When you are at work add a torrent file you found to your Dropbox account.
Dropbox will sync with your computer at home.
uTorrent scans the folder where Dropbox is saving files for any torrent files.
When it finds any new .torrent files, it will automatically load the file in uTorrent and delete the file.
Check our post about the Hidden Tetris Game in uTorrent ! Also read how to download torrents as exe file.