If your see a red icon on the volume controls while logging into Vista, it might be due to "the audio service is not running" error. Opening the volume control mixer usually shows a grayed out slider. Lets see how to fix this error.
How to Fix Error – "The audio service is not running"
Click on Start
Type services.msc
Scroll down the list of services and locate Windows Audio.
Right Click on Windows Audio and select Start (you may also try to stop and start the service)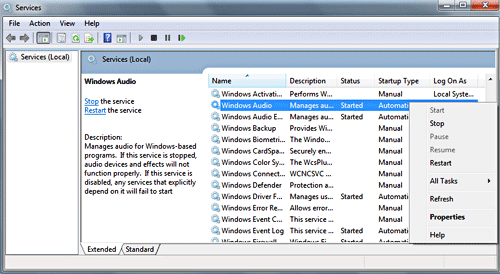 This should fix the error. If the error still exists you might have to reinstall your audio drivers.
Note :-
If the Windows Audio service does not start and you get an Error 1608 The dependency service or group failed to start, check that the services givens below are started and that their startup type is set to Automatic.
These services must be started :- Plug and Play, Multimedia Class Scheduler, Windows Audio Endpoint Builder.