Forgetting your windows 7 password might cause you to panic about loosing your precious data. There is nothing to worry about since we can reset windows 7 password easily. Lets go through a few simple ways to get you logged in.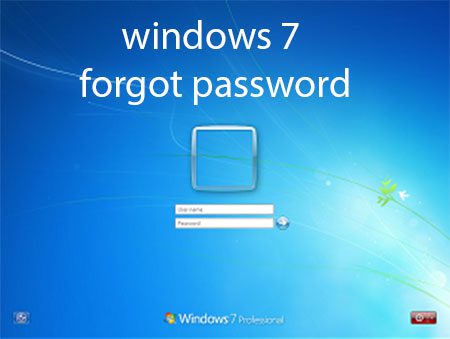 You are going to need a Windows 7 Recovery Disk or windows 7 installation disk. If you dont have one, it can be created on another computer running Windows 7. Follow microsoft's guide to create system repair disk.
Boot into the recovery disk or flash drive.
Now there are two methods we can use to reset the windows 7 password
Method 1 to reset windows 7 password
Click the Next Button
Choose system recovery options and select Command Prompt (the next step assumes you windows is installed on c:, change the letter if it is on another drive)
Execute the command

copy c:\windows\system32\utilman.exe c:\ 

Execute the command

copy c:\windows\system32\cmd.exe c:\windows\system32\utilman.exe

Choose Yes to the overwrite command
Eject the Windows recovery disk or flash drive
Restart the computer
Click the icon in the lower left corner of the screen (sometimes it appears next to the shutdown button on lower right side of screen)
This should open the Command prompt
Execute the command while replacing username with your username and password with password you want to set

net user username password

Close the window
Login to windows 7 with the new password
Delete the ultiman.exe file in c: drive or copy it to c:\windows\system32
Method 2 if you forgot windows 7 password
Use this only if other options fail.
Download Ophcrack from sourceforge on another computer. Burn the file to a disc and boot from it. Run the software and let it show you the the existing user account and passwords stored on the computer.