Recently we wrote about How to Rip a DVD, that is what most people are looking for while making backup copies or ripping to video files. What if you just wanted to rip the audio from a dvd and save it as an MP3 file ? Google search shows a bunch of shareware or paid software that can do it, but why pay when you can get it done for FREE.
How to Rip Audio from a DVD / VCD and save it as an MP3 file
Free DVD MP3 Ripper is a software that can extract audio from DVD, VCD or MPEG files and save them as MP3 files which can be played by common MP3 players.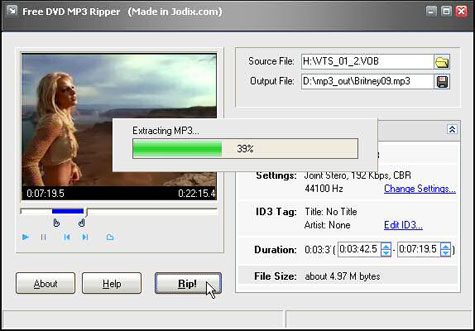 Just choose the start and end points of the part you wish to rip and click the Rip button, its that simple ! This program even bypasses DVD copy protection, so now you can make mp3 files from all those concert DVD you own.
Features
It's clean and free, without any adware or spyware.
It's stable and fast.
It supports DVD movie files, VCD and MPEG files.
Choose section of the source video file to extract into MP3.
It uses up-to-date and high quality libraries to encode MP3.
It's not affected by any DVD copy protection.
The installing and uninstalling process is very easy.