The TP-Link TL-WR740N is one of the most budget friendly wireless routers in India. This router is recommended for people who are on a limited budget but require a stable and consistent wireless network. The router reaches and maintains 150mbps speeds while providing good wireless coverage.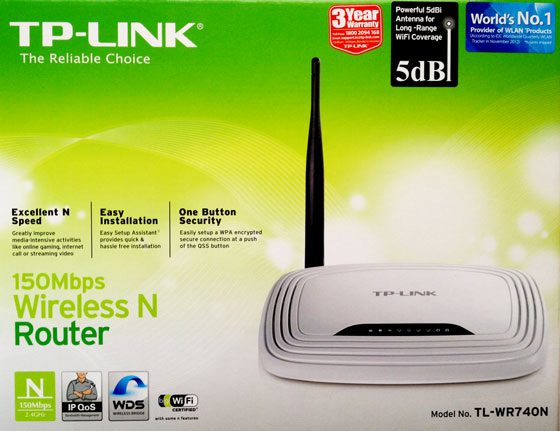 What comes in the box of the TL-WR740N Router
You get the router unit, a power adapter, a driver disk and installation guide. A RJ-45 cable is also provided since the router must be configured initially through a wired connection.
Features of the TP-Link TL-WR740N
150 Mbps wireless speeds
WPS wireless encryption
WDS wireless bridge
LED Indicators for  POWER, SYSTEM, WIRELESS, QSS, WAN, LAN
IP based bandwidth restrictions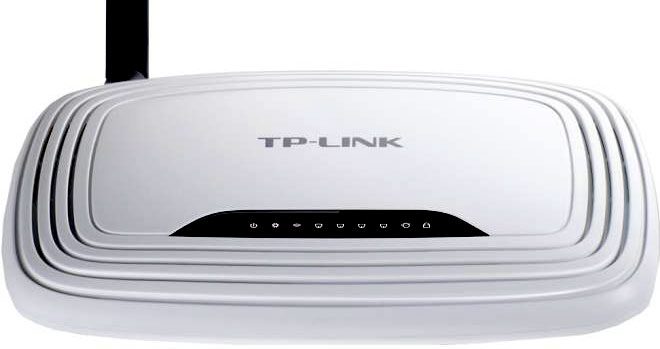 Unboxing the TPLink TL-WR740N Router
Should you buy the TPLink TL-WR740N Wireless Router
On the back of the router we have the reset switch which can only be accessed with a long pin or something similar to avoid any accidental resets. There are 4 RJ-45 slots for wired connection to your computer and a blue WAN port which is for the input wire from your ISP. There is also a small WEP setup button next to the antenna. The 5 dBi fixed antenna can also be found at the back of WR740N router. Below the router there are vents for air circulation due to which the router does not heat up.
TP-Link TL-WR740N is compatible with the wireless 80211b/g/n devices and features QSS for wireless security encryption. It has been tried and tested on most ISP's like ACT, Airtel, Hathway etc. It does not include a modem which is required for BSNL (you may connect this to a modem to use with BSNL) . BSNL users can also use the Tenda N303 which is a wireless router with an inbuilt modem.
Power efficiency is also great on this router. It uses around 3W of power while running.
You can also apply IP based bandwidth control  under the Quality of Service section in the routers menu. This can help you control bandwidth usage if someone else on the network is using up too much of it. It is a very useful feature to have if people download on your network and the ISP has a FUP limit.
IPv6 is supported on the TL-WR740N and so is WPS. It is recommended to turn off WPS on any router you may buy as it is a security weak point and easy to crack.
Configuring the TL-WR740N Wireless Router
Wifi Performance of TPLink TL-WR740N
Due  to its 5 dBi antenna the Wifi coverage in more than enough in most apartments. There are 4 slots for Lan Connections at the back of the device. You can also read our article on how to increase wireless router range for some helpful tips. The through put is consistent and reliable. There are much more expensive routers that do not perform as well as this. This is the main reason that makes the TL-WR740N one of the best router
The router performs flawlessly when gaming online and streaming videos on youtube. Streaming 1080p videos on Youtube is not at all a problem with this router. However we do not recommend 150 mpbs speeds if you are planning to stream videos between devices like to a Chromecast, Amazon Fire TV or similar device.
Performance is exceptional at the price and any OS including windows 10, windows 8, xp etc are supported by the TP-Link TL-WR740N.
Check Current Prices on Amazon
Alternative Routers to consider
TP-Link TL-WR841N 300 mbps wireless router is very similar to the WR740N but the extra wireless data transfer rate is great if you have multiple people using the wireless network at the same time. It will ensure that you are able to concurrently stream video on multiple devices at the same time without any delays.
Tenda N301 is also a 300 mbps wireless router which is budget friendly and has good reviews.
Tenda N303 is recommended for BSNL users who need a modem along with a router. This all in device should be able to handle a budget users needs easily.
We think this is an excellent router for the budget conscious consumer with basic wireless needs. Share your experience about this router in the comments below.