Laptops are a boom when you need to use the computer while on the move. It is extremely annoying when it shuts down or hibernates without any warning when the battery is running out. While Windows 7 is supposed to give a warning before initiating  the hibernate or sleep action it usually does not do this. Options to set up this feature seems vague and does not work. There are a few pricey software that can warn you about  battery's charge  but at TechiePortal we always try to recommend free software that can do the same function.
If you are looking for a software that can inform you about low battery status so that you can find a power source for your battery, then this is the right software for you. We found this app posted on a forum, it is written by a programmer called "Mad Dog Apps".
Battery Monitor is a very lightweight software that informs you about the battery levels of your laptop. It shows basic information like power source, charge level and charge source. You can set the battery alert level. When the battery charge reached this percentage you are warned with popup windows about the battery status. It can be made to remind you with multiple warning if required.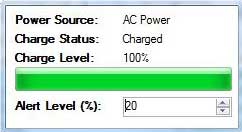 The software also allows you to change the power scheme of the laptop. For any bug or reports contact Mad Dog Apps by email. The software can be downloaded from Mediafire. The link is to the projects mediafire account so download the latest version of the software.
A note to MadDog, the app pops up when I am alt tabbing between other programs, no idea why this happens. The app icon must be double clicked to close the popup to resume alt tabbing.
Download Battery Monitor