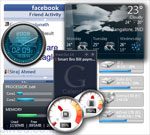 Before we start, there is no best gadget for any given purpose. It depends on your preferences and needs. This post tries to bring to notice useful vista sidebar gadgets.
Best Windows Vista Sidebar Gadgets
Calendar
Since a lot of people use Gmail and the associated Google Calendar, we thought it would be a good idea to share a gadgets that can show the google calendar on your sidebar.
Google Calendar Agenda lets you login to your google account and shows the relevant calendar events on the sidebar.
For those who do not use google calendar, we have zCalendar this gadget lets you set events and notes, highlight the days with event and alerts you by playing sounds for them.

Clock
Clocks are for eyecandy ! There are a lot of clock with glass effects, that look like smileys or cartoon characters, etc. If eyecandy is what you are looking for search for it. However we recommend SD Sidebar Clock.
This clock shows the time in analog and digital along with the month and year. It also has an alarm, which we find is very useful. To access the alarm and other settings for the clock click on the alarm text on the clock to see the menu.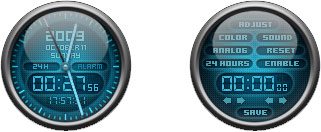 CPU and Memory Usage Meter

I like to know the CPU usage of my system while programs are running. The basic gadget included with Vista can tell you the percentage of CPU being used. Since we have Dual Core CPU's it would be a good idea to see how much for each core is being used. Multi Meter (Dual Core) is a vista sidebar gadget that can let you see the CPU usage per CPU core along with the RAM being used. Quad Core users try out mCPU.
Disk Usage and Access

Opening My Computer and doing to a drive is harder than clicking a shortcut on your desktop right ? Drive Info is a neat lil vista sidebar gadget that can show you how much space is being used by your drives. It also allows you to access the drive by clicks on it.
Calculator
This is something that we need when we least expect it. Having a calculator on the sidebar makes it easier than looking for it in the start menu or typing "calc" in the run box.
Vista Calculator acts as a simple calculator gadget in the vista sidebar. When detached from the sidebar it becomes a scientific calculator !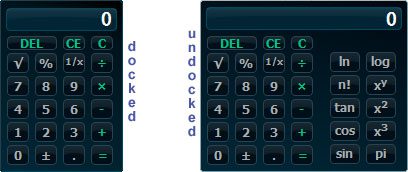 Social Networking
While there are tons of social networking sites out there, the most commonly used one is Facebook. Facebook Explorer will show your updates, friend requests, app invites and other info. It can also show your friends updates right in the vista sidebar. Very usefull gadget unless you like to keep Facebook open all the time.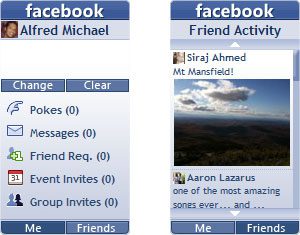 If you like this post be sure to bookmark it on your fav social networking sites. Do let us know if you would like us to help you find a gadget for a specific job.