With a collection of more than 7000 songs, it was a known fact that there were many duplicate songs, spread across many folders. Finding these files manually was almost impossible but this freeware made this possible in a snap.
Duplicate Music Files Finder, a free software that can help you find duplicate music files and delete them. The program searches for MP3 tags in the files and find duplicates even if the file names are not the same. Just choose the folder to scan, and start. It took about 15 seconds for it to scan all my 7000 files and return a list of possible duplicate files.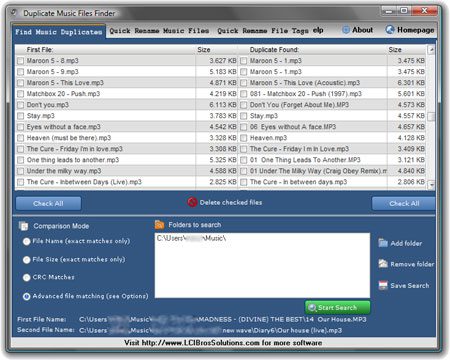 Once the duplicates are found, just click the checkbox of the file you wish to delete, when all files are marked hit the delete button to remove the duplicates.
Do not check all the boxes because the software sometimes, matches files incorrectly ( like for 2 files named 01.mp3 )but checking files with same song name should be safe. This program also supports renaming files and tags of mp3 files.
Download Duplicate Music Files Finder