Wouldn't it be cool to make that new song your phone's ringtone. Maybe the starting part of the song isn't the best part. What if you want to cut a part of the audio clip to suit your needs. You need an audio editing software to do this. Windows comes with the windwos sound recorder that can record audio for you but it does not allow you to edit files according to your needs.
Free Audio Editor is a widows application that  allows you to record, edit and enhance audio files. It can also help you to add effects to existing audio files. Recording can be done through any microphone connected to the computer.
The program supports multiple file formats like MP3, WAV, WMA and OGG. FAE also has a text to speech engine to create audio.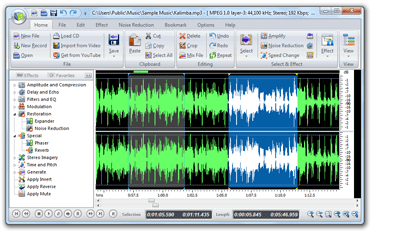 Features
Edit audio files visually
Apply audio effects
Noise reduction tool
Realtime preview
Multiple file formats supported
Supports burning CD's
Text to speech engine