RocketDock is a smoothly animated, alpha blended application launcher. It provides a nice clean interface to drop shortcuts on for easy access and organization. With each item completely customizable there is no end to what you can add and launch from the dock.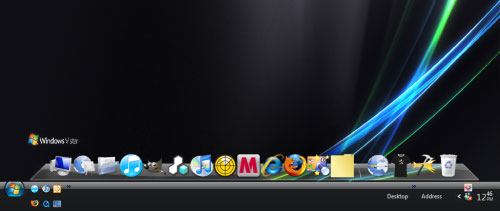 Now with added Taskbar support your minimized windows can appear as icons on the dock. There are a few new features in this app, like minimizing windows makes it an icon on RocketDock. You can still see a mini preview of minimized videos and the application does not launch new windows if a similar window of the program is already running.
I quickly found to RocketDock be indispensable. Whenever I use someone else's computer I catch myself mousing to the top of the screen waiting for the dock to appear. Ive never noticed it hog resources or slow down my machine and it runs 24/7 with my comp. A great tool to clean up your desktop but still have quick access to your most used icons.
[[ Download RocketDock here ]]