While blogging, its a common task to take screenshots of different applications. Vista has an inbuilt screen capture feature built in called Vista Snipping tool. This tool offers the basic tools need to capture your screen.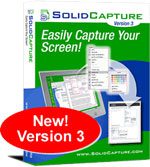 Solid Capture is a screen capture software that retails for almost 30$. In this post I will show you how to get a free license key for Solid Capture but before that lets see what Solid Capture is.
The software allows you to take screenshots of any part of  your screen be a window, a menu or even the whole screen. It can then edit and format the image before sending it via email and converting it into a pdf file. There are times when u need to take a screenshot but need to scroll the page to see it ? Solid state allows scrolling while taking screenshots.
Another interesting feature in Solid Capture is its ability to extract text from a screenshot. It can also check for color values of any part of the screen and return it in RGB or HexaDecimal Format.

So how do you get a free license key for Solid Capture ?
Visit this secret registration page
Enter your Email and Name
Click Register
Check Email for your License Key
Download Solid Capture
Enjoy your new software.
via Raymond