Paypal has over the years become the norm for online trading. They allow you to have an account where you can enter your credit card information. You can then purchase from online stores without giving out your actual credit card information. This greatly enhances the security of shopping from lesser known stores on the Internet. They also allow you to create single use, virtual credit cards for shopping. Many advertising companies also use paypal to pay their publishers.
In the past few days I noticed that some of my transactions where I received money were reversed (the payment was sent to me was taken out of my account). Initially I thought that this was an error from the sender's part and mailed them. The sender had no idea why the amount was reversed when they did not request for it.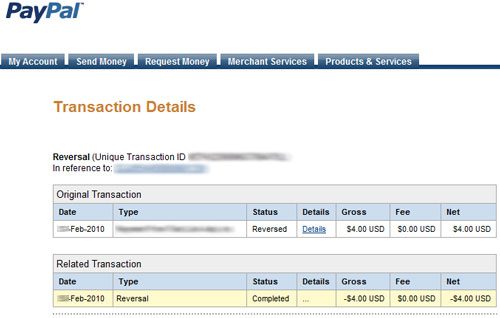 After asking paypal for support I received this mail from them
Dear Alfred ******,
Thank you for taking time to contact PayPal, my name is Sarah Jane and I
will be happy to assist you with your concern.  I would like to let you
know that you are valuable to us and it is our greatest priority to
resolve your concern.
Hi Alfred, I carefully read your email and I understand that your
concern is regarding on the payment that has been reversed form your
PayPal account and I really apologize for any inconvenience this issue
may have caused you.
We have stopped allowing Personal Payments to be sent to and from India.
We are trying to resolve this as soon as possible and we are sorry for
any inconvenience.
If this was a payment for a purchase of goods or services, and not a
personal payment, then you may contact the buyer and have him or her
resend the payment as follows:  (a) click the Send Money tab, (b) select
'Goods', and (c) provide a shipping address.
If this payment was a personal payment, such as a gift to a friend or
family member, then we request that you find another payment method
until we restore personal payments to and from India.
Got more questions? You'll find answers at our improved Help Center.
Click "Help" in the top right corner of any PayPal page to get started!
Sincerely,
Sarah Jane
PayPal, an eBay Company
I have quite a lot of money lying around in paypal accounts and if they aren't going to solve this soon, guess its time to start moving that money to offshore account.
I found more reports of this incident, Paypal has started making the account balance of some India users into the negative !
"Personal payments to and from India have been suspended while we address some questions from our business partners. You can still make commercial payments. We're trying to resolve the situation as quickly as possible and we're sorry for any inconvenience this may cause."
All India paypal account holders, are advised to be on their guard. Check you paypal accounts and write to them if you find any payments have been reversed.
Updates :
Hi blog readers,
It's Anuj from the communications team here.
I'm writing to let you know that personal payments to and from India and transfers to local banks in India have been suspended while we work with our business partners and other stakeholders to address questions they have about the service.
During this time, customers can still make commercial payments to India but merchants cannot withdraw funds in Rupees to local Indian banks.
We're trying to resolve the situation as quickly as possible and we're really sorry for the inconvenience that this may cause our customers in India and around the world.
I'll update the blog as soon as we have more information to share.
Anuj
Regarding Withdrawals to bank accounts this is Paypal's reply
Dear Alfred Michael,
Thank you for contacting PayPal.
I researched your inquiry and found out that we are currently
experiencing an issue processing bank transfers to India bank accounts.
As a result there may be some delays in both withdrawals and random
deposits. We are doing everything we can to process your withdrawal as
soon a possible; however, we do not have a specific timeframe to share
at this time. We would like to sincerely apologize for the inconvenience
and delay this may cause.
I'll be glad to hear from you if you need clarification. Just give us a
call at 1-402-935-2050 and we will try our best to give you immediate
answers. Thank you for choosing PayPal for your online payment needs. We
appreciate your business.
Sincerely,
April Marie
PayPal, an eBay Company
Copyright © 1999-2010 PayPal. All rights reserved.
Will update this post when there is more info available.