uTorrent as well all know it, is one of the most popular torrent clients in use today. Its tiny, lightweight and handles all the torrent you can throw at it.
There has been a new release of uTorrent but the program does not auto update from version 2.xx to 3.0. We need to manually download the software from the official site and update it. Don't worry it wont mess up your existing settings or torrents.
Why update to uTorrent 3.0 ?
There are a number of new features that the updated client supports. Android app (Market) allows you to control your utorrent without setting up ip address or port forwarding. There is also a new feature where you can drag and drop files into a box on the left bottom corner to automatically create a torrent link you can share with friends. This link allows them to download the file through p2p.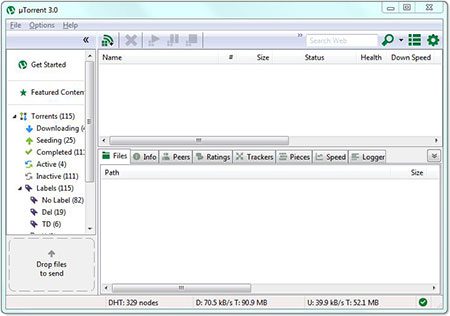 Features
Streaming: Watch videos within seconds with progressive downloads – no need to wait.
 Remote Access: Start, stop, and monitor torrent downloads on the go.
 Ratings and Comments: Comments and ratings on your client is shared with other users.
 Feature Hiding: Minimizing parts of the µT interface with a click.
 Portable Mode: Run your µTorrent client directly from a USB device
 Stability: µTorrent 3 also offers under-the-hood improvements including a focus on stability as well as improved Web seeding to add speed and reliability.