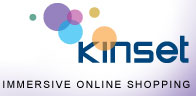 Everyone loves to shop but shopping online is never the same. This is probably because we just look at a website with a picture of the product with the price and description. While doing our day to day shopping, we tend to walk around till something catches our eye, before we check it out.
Kinset tries to bring this feeling to online shopping by making virtual stores online where you can walk down the aisle while viewing the hundreds of items on display.
To use it, you need to download a browser app (800kb) from their site. Once done, you'll be able to walk through virtual aisles. You can get detailed descriptions of the items by dragging your mouse over them.
Definitely worth checking out even if you don't have to buy anything. This may be the future of shopping, who knows !!!
There was one small problem with Kinset, the program doesn't wait for me to configure the firewall and shuts down because it cannot contact the server. Had to configure the firewall and reinstall the kinset browser for it to work.