Ever wanted to get out of a sticky situation with your friends and wished someone would call you so you could make an excuse to leave ? This website has just the thing for you..
Getmooh is an automated call back service. It is designed to help you escape a variety of situations by calling you automatically on your phone at a pre-specified time and playing you a recording which will either instruct you on what to say to elude your tormentor(s), or which will simply give a convincing sense of you being on an important call.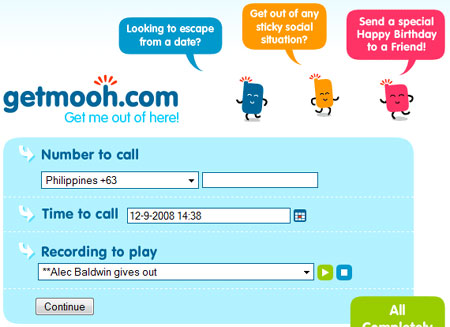 Creating a Call
To use Getmooh take the following steps:
1. Select the international dialling prefix of the phone you want to call.
2. Enter the local number of the phone you want to call
3. Specify the time at which you want to be called. Use the calendar icon to select a time.
4. Select the recording you want played to you during the call. You can listen to the full recording in advance by selecting it and then clicking "play sample". This will give you an idea of what to expect and let you hone your acting skills.
5. Click "Continue". (If Getmooh recognises you it will say "Add Call" and the process will complete). Otherwise….
6. Enter your email and your password. (See Getting a password below).
7. Click "Add Call".
8. That's it!