As the growing number of users for Android in India is increasing everyday so is the App developer from India. Today we will be seeing 1 such app from a Indian Developer which can help you to find lowest prices for books.
Often when you visit to a book store you see a lot of books and want to buy few of them, but you always wonder of this book will be available online for a cheaper rate.  Most of the time you don't want to go through the pain of searching through five different books site for finding the best price, you just want to know that how much discount each one is offering and if that book is available online.
Find the Best and Lowest Price of any book in India using this Android App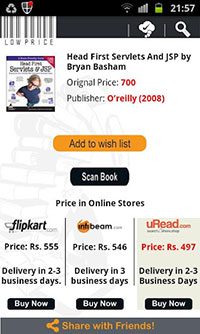 Lowprice 
as the name suggest is an
Android
app which is created to help book lovers save some money. This app gives you a fairly simple comparison of prices for any book from online bookstores like 
flipkart, infibeams and rediff books.
Features
This app simply requires to point the camera of a phone to the back of the book to read the barcode, you don't need to type the name of the book
Once the barcode is scanned the app will find the best price from 3 online stores
it also gives you information about availability of the book and how many days will it take for the delivery of the book
You can add the lowest book price to your favorite so that you can refer them later.
This app was fairly simple to use but here are few things you need to watch out for
Things to Watch
Lowprice gives you price only from India books sellers like flipkart, infibeams etc.
Using the app you can find the lowest price but if you want to buy this book you have to go to the ecommerce site and buy it from there (app will redirect you to the proper link), there is no option to buy the books from within the app
If you have an Android Phone Download 
LowPrice 
from Android Market using following link
Please let us know your review for the app in the comment sections.