Drop.io is a place where you can share photos, videos and documents without even registering. It works by letting you create a custom URL (drop.io/dropname) which you can share with others. The drops are not searchable but for additional security they have an option to protect drops with passwords.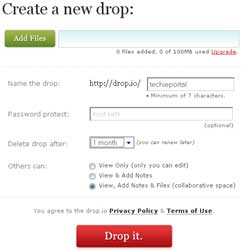 Once a drop has been created, it can be accessed just typing its location in any browser drop.io/dropname
Uploading files to Drop.io
Data can be added in three ways
the web (drop.io/thedropname)
email ([email protected])
phone (646-XXX-XXXX ext. XXXXX)
While we haven't tested the phone option, should enable voice recording, more like online voice mails.
Using the drop as a collaborative space is one of the reasons I have been using it. Upload files to the drop, my colleague works on it, then our manager checks it and I get the final file back in the drop.