Google news has always been on my homepage because I never manage to have enough time to read the newspaper. Had been on the lookout for an Indian news service and that's when I found IndyChai.
IndyChai is an Indian news aggregator that features many popular Indian sites. The site features a very simple layout, almost looks like some wordpress blogs I have seen.
Items are categorized into News, Entertainment, Sports, Tech, Good Life, and Entrepreneur. The News and Tech sections are fairly good with a lot of content. The sports section is limited to Cricket and Entertainment section to Bolloywood !! Can't complain they are still in beta stage but I do hope they add more content soon.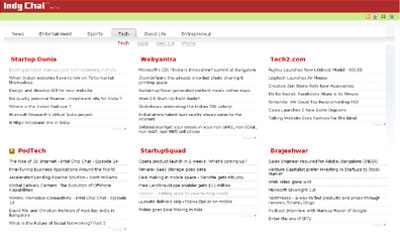 IndyChai features RSS feeds and user comments. If it's Indian News your looking for, Indy Chai is a good stopover to check whatz new !