My friends here in Philippines love to listen to "Tagalog" songs on YouTube. The TV shows in philippines usually dont have the videos for these songs and its hard to find them on the net except on YouTube. They all wanted to be able to save the YouTube videos into mp3 files that they could write on a CD on put into an mp3 player.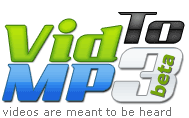 VidToMP3 is a site that allows you to download mp3 audio from video clips on YouTube, Google Video and Myspace.
How to use:
Copy the FULL address of the page with the video.
(ex:

http://www.youtube.com/watch?v=K7y8GC3DW4Y

)
Paste the address you copied into the text box below.
Click "Download", and wait. Please be patient.
When conversion is complete, click on "Download MP3".